showcase module
The new onOffice showcase module enables you to create presentation PDF files for your properties with which you can perfectly present your properties.

Please note that the showcase module is an additional module subject to a further charge. For this please contact our sales representative.
Creation of a showcase presentation:
Select the properties from your property list for which you would like to create a showcase presentation.
For this activate the tick next to the property/properties and select following function in the action bar.

Create exposé >> Create showcase presentation

Afterwards a pop-up window will open where it is possible to create the showcase window in two different designs.

Via the selector you can choose between "Showcase-Presentation 1" or "Showcase-Presentation 2". As soon as you have chosen a design confirm your selection with a the button: "Create".
After creation of the PDF file you can decide if you want to save the showcase presentation or just open it.
Advantage zip file
If you opt for this format your showcase exposé will be created in jpg format. This way you can easily play the file onto an USB stick and run it without a computer via a monitor or TV with an USB interface.
Settings in Acrobat Reader
Please note following settings in your Acrobat-Reader: You find these in Acrobat under Edit >> Pre-settings
The output is only possible with the free Acrobat Reader
It is necessary to deactivate the screen saver
The marked settings (see screenshot below) are to be made respectively
Presently it is not possible to choose to determine the transfer type
With the key combination: CTRL + L the presentation is started, alternatively you can select this via Menu >> Display >> Fullscreen mode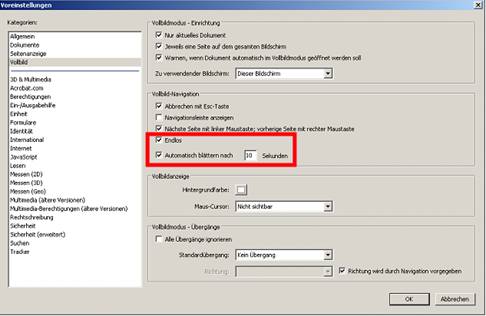 Settings property management
Please note following settings in property management:
Properties that are created multilingually in your version are also displayed in the showcase version in several languages.
The property description is automatically assumed from the freetext field "Three liner". Should this field be empty the text is assumed from the field "Description".

View showcase presentation
Output Showcase window presentation 1: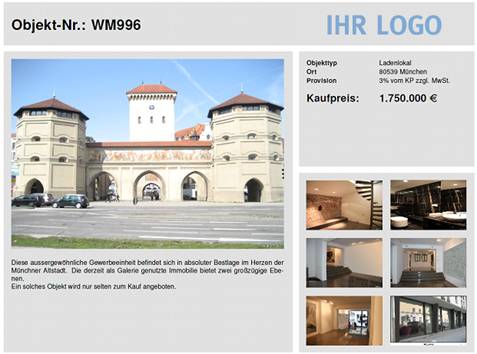 Output showcase window presentation 2: