Joint business
Documentation Joint Business
Introduction
Insert properties in joint exchange
Info page
Suggest joint business
Accept / Reject
Overviews
Immomatching
Exchange filter and Quicksearch-Box
Synchronization
Broker manager
Introduction
The onOffice smart joint business enables you to cooperate with other brokers. If there is no matching potential buyer in your database for a new property then you have the option to insert your property in an exchange in order to benefit from the data of collegue brokers. The "provided" property is then matched by other exchange participants. Another participant can see at a glance if a property is in the exchange that matches the search criteria of their potential buyer and suggest a joint business. In this case a commission split is agreed and you can conclude the transaction.

Profit from the countless properties that are available to your potential buyers and …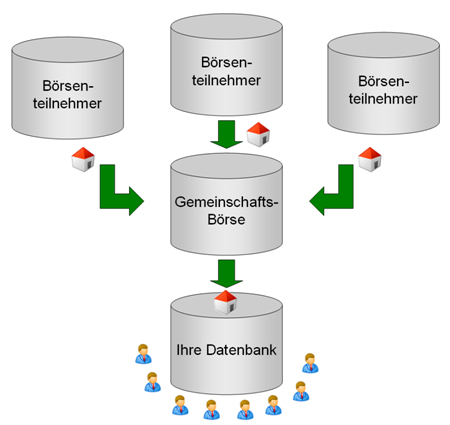 …benefit from the masses of potential buyers that will be interested in your property!